Much of the work that goes into making a business successful happens behind the scenes. At Kwara, keeping everything running smoothly—from finance and customer support to talent acquisition and human resources—is largely the role of the operations department.
Meet David Hwan, Co-founder and Head of Operations of Kwara. He's a graduate of the University of Amsterdam (Amsterdam Business School) and a travel enthusiast. His personal experiences with social entrepreneurship changed the trajectory of his career. We sat down with him to hear the full story.
How would someone describe you?
Good question Lewis, how would you describe me? The first things that come to mind based on past descriptions are entertaining, energetic, effective, deep, driven, inspirational, funny (at least 1 out of 10 times) and Kind. Those that know me from my early days in Amsterdam would probably add Impulsive to that list.
So you're Dutch? What was growing up there like, and what is the relation to Indonesia?
I was born in the south of the Netherlands, but we moved to the UK six months after for my dad's work. I spent my early childhood there, and we returned when I was four. Growing up in the Netherlands was mostly pleasant, as my family settled down at an idyllic coastal town called Bergen. When I turned 18, I moved to Amsterdam. Studying and working in Amsterdam was an enriching experience. Joining a student club, leading the board of a study association and in my case, exploring entrepreneurship, were all part of my learning during those formative years. My family is however originally from Indonesia, a beautiful island country in South-East Asia. 
As a Head of Operations, what does your day look like?
My role at Kwara is executing on the strategy we set out as a team. For a fast-growing fintech startup, which talents join, how current team members work together and how the organizational processes evolve, are crucial for long-term success. I also work with Cynthia on strategy, financial planning and business growth. Lastly, I look at our opportunities outside of the continent, in particular the South-East Asian region, as it provides good soil for growth.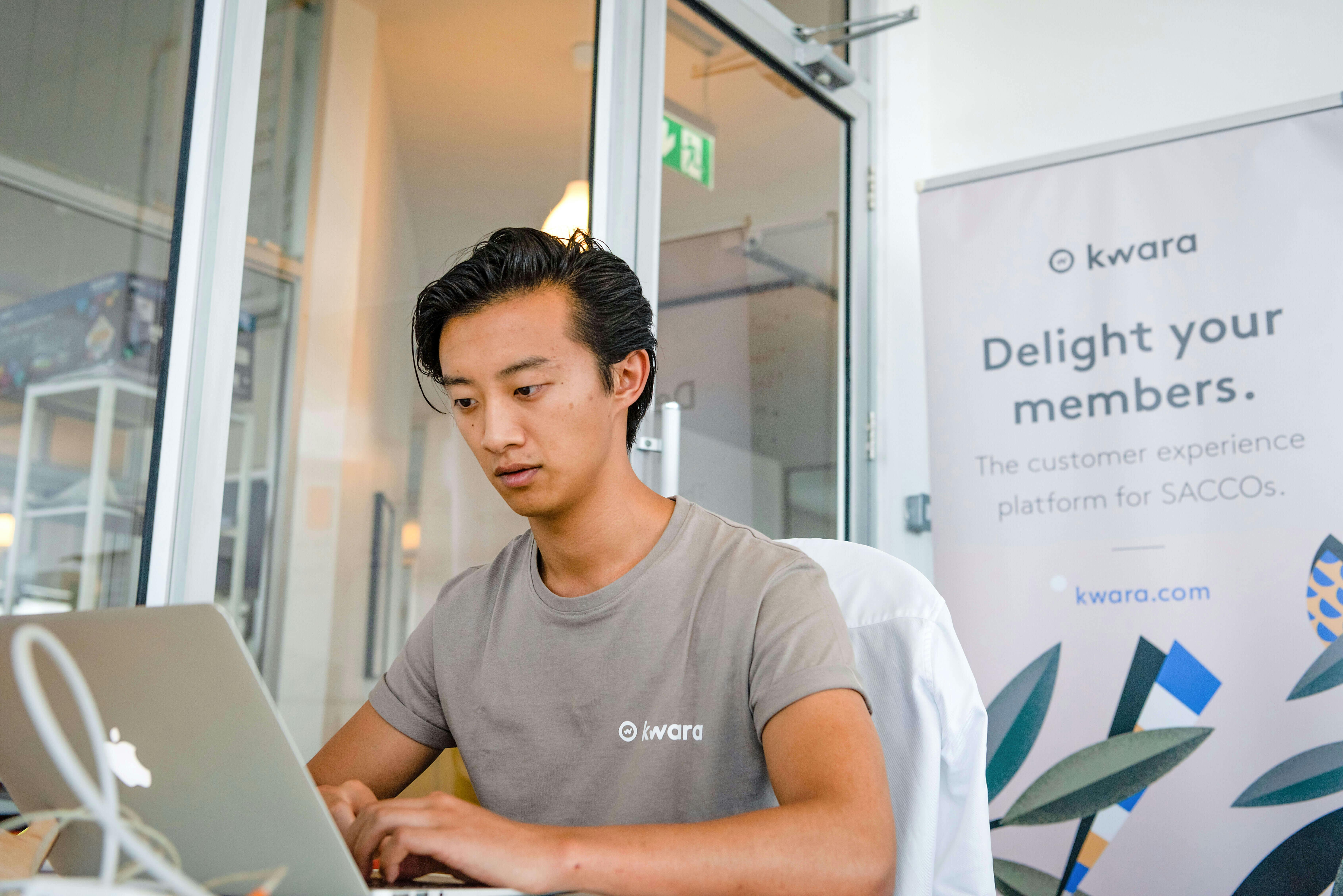 What did you do before you joined the team here?
Before joining Kwara, I co-founded and led an incubator in Amsterdam and Rotterdam. With Forward Incubator, I trained and coached over 100 entrepreneurs from the Middle-East, Africa and Asia. We saw in these immigrant entrepreneurs huge potential and developed a top-level training program together with the likes of McKinsey, Deloitte and Uber. We raised $400,000 in our first year of operations, allowing our entrepreneurs to raise an additional $1 million for their businesses. I also worked briefly at the M&A department of advisory firm PwC and the Amsterdam Business School as an Economics & Business tutor. 
What do you like best about working at Kwara?
I believe Kwara has taken a radically different approach to financial inclusion. Instead of a fintech startup reinventing the wheel, we take modern technology and fit it to existing and highly valuable Savings & Credit Cooperatives (SACCOs). This means that the cooperative spirit is upheld, and with it, the benefit to individual members through the SACCO digital banking platform we offer. What I like best is the success that our team enjoys when working well together. Once you get in a flow with a team, where the strength of one complements the shortcomings of another, you get to create magic. I always have left our monthly All-hands meeting with a warm glow, as the teams share what achievements they have reached together.
What's your proudest achievement since joining?
My proudest achievement would be hitting a high note of Adele's 'Rolling in the Deep' at the Karaoke Bar, at our December 2019 team event. I am not sure if the rest of the Team Kwara agree though...
What inspires you to keep going?
My visits to Indonesia every couple of years remind me of what my life would have looked like if my grandparents would not have left for a better future in the Netherlands. Though there is much beauty in Indonesia, career opportunities in Jakarta are few and far in between compared to Amsterdam. To me, that inequality is striking, and I wake up every day trying to tip those scales of inequality a little bit further, in favour of those born with fewer chances. Whether or not I will succeed is still unclear, but the attempt is what drives me. After all, what is the purpose of good fortune, if not to be shared with others?